Austin Floods Force Shelter Animals to Evacuate: City Rallies in Support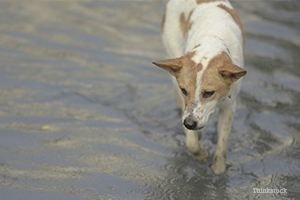 The rushes of heavy rain came through East Austin and flooded the Town Lake Animal Shelter (TLAC), forcing over 50 dogs to evacuate the center and be moved to the Austin Animal Center (AAC). That shelter in turn had to close, according to austintextas.gov. City officials are now asking people to take in any lost dogs or cats and keep them safe until the AAC is open.
According to the AAC's Facebook page, "AAC is now approx 100 kennels over capacity. We will be closed for the next couple of days so we can dedicate our time to caring for the animals. We will be open to people who are looking for their lost pets and need to reclaim them, as well as those that already have an adoption in process. We will keep you updated as things change."
Citizens rally
In a heartwarming show of support, the good people of Austin really came together to support the displaced animals. People were lined up outside of AAC to foster pets of Austin Pets Alive (APA). AAC's Facebook  update read, "All the pets are safe, warm and dry. We will post photos of the temporary kennels at AAC tomorrow. Thank you as well to everyone who came out and adopted, reclaimed and picked up foster pets today. We will keep in touch with more updates and photos tomorrow. Thank you so much!" 
If you've lost a pet in the Austin area, or want to find out how you can help, visit the Austin city website here. 
This is a great reminder of how quickly our environment can change; click here for some disaster preparedness tips for you and your pets.
If you have any questions or concerns, you should always visit or call your veterinarian -- they are your best resource to ensure the health and well-being of your pets.

Tori has more than 2 years of experience in the pet health industry and is junior editor of IDEXX's Pet Health Network team.
Opinions expressed are those of the writer:
The opinions and views expressed in this post are those of the author's and do not necessarily represent the beliefs, policies or positions of all veterinarians, Pet Health Network, IDEXX Laboratories, Inc. or its affiliates and partner companies.