Behind the Scenes: The Rescue of Jax, the Kidnapped Puppy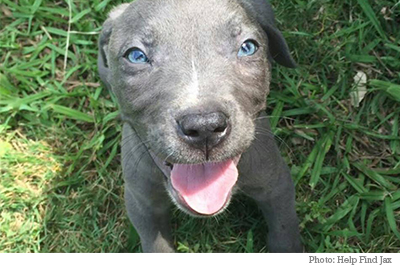 Last week we met Jax, the kidnapped puppy who was so determined to get home, he jumped out of a moving truck on the highway (read the full story here). I wanted to know more about Jax's story so I reached out to Kathryn Smith, the HR Manager at the clinic that treated Jax (Allandale Veterinary Clinic) for an interview and found out how Jax's visit impacted her. (Allandale is a client of Pet Health Network's parent company, IDEXX Laboratories.)
What happened Saturday morning at the clinic?
Kathryn: I am the HR Manager here at Allandale Veterinary Clinic and I was working that Saturday when Jax, the injured puppy, originally came in. Saturdays are a short day for us and we tend to only see routine appointments, so when the puppy came in, we jumped into action to make him a priority. We had no idea about head trauma and/or internal injuries, but obviously this was our worst fear.
Where was Jax to go?
Kathryn: It was brought to my attention that the good Samaritan that brought Jax into us could not take him home with him due to his other animals. After knowing that this puppy's pelvis was definitely broken (and we were still unsure about internal injuries and/or head trauma), I knew that he would not get the care he needed, such as a quiet place to rest and veterinary staff to attend to his medical issues at one of Austin's lost pet facilities (which is standard protocol when a stray pet is brought to us). So, I offered to take him home over the weekend. I scoured craigslist lost pets and searched through the reports at Austin Animal Center to see if anyone had lost their puppy.
How did Jax finally reunite with his family?
Kathryn: When I came back into work on Tuesday, the puppy came with me. I received a frantic phone call from a gentleman named Jordan. He said he was on his way over to come get his puppy. At this point we did not know that the puppy was stolen, and I was very apprehensive to just give this puppy over; the bill at the clinic was over $800 at this point. 
Jordan informed me that he had, in fact, filed a police report. I called them to confirm the story and it was brought

Tori has more than 2 years of experience in the pet health industry and is junior editor of IDEXX's Pet Health Network team.
Opinions expressed are those of the writer:
The opinions and views expressed in this post are those of the author's and do not necessarily represent the beliefs, policies or positions of all veterinarians, Pet Health Network, IDEXX Laboratories, Inc. or its affiliates and partner companies.