Five Great Ways to Challenge Your Dog's Mind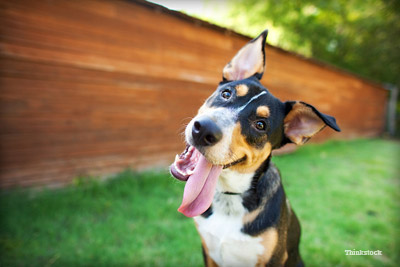 Proper exercise for dogs is important to their overall physical and mental wellbeing, but often "mental exercise" is given short shrift when looking at fulfilling a dog's needs. Dogs that are bored and that have little mental and environmental stimulation can develop mild to severe behavioral problems as a result. Providing your dog with "brain exercise" is easy to do – here's some ideas you can try out!
1. Behavior training for dogs
Obedience training can be more than just simply teaching your dog sit, down and other common manners and behaviors. Training your dog to learn a new behavior asks him to think and learn and engage his brain. You can become creative in what you teach – tricks are one wonderful way of constantly keeping your dog learning while enjoying an activity that's fun for both of you. Using a clicker to train is an excellent way of teaching your dog complex behaviors and you can use it to "shape" behaviors as well. "Free shaping" is another type of training where you "shape" small increments of behavior based on what your dog does in a given situation. A typical example would be the well-known "101 Things to Do With a Box" exercise from clicker training expert Karen Pryor.

Mychelle has more than 13 years of experience in the pet health industry and is a Certified Dog Behavior Consultant as well as a valued member of IDEXX's Pet Health Network team since 2014.
Opinions expressed are those of the writer:
The opinions and views expressed in this post are those of the author's and do not necessarily represent the beliefs, policies or positions of all veterinarians, Pet Health Network, IDEXX Laboratories, Inc. or its affiliates and partner companies.