Chicken Patties Dog Food Recalled Over Salmonella and Listeria Concerns
The FDA issued a firm press release on October 2nd that confirms a voluntary recall from the makers of K-9 Kraving Dog Food. The company has announced a recall of product distributed to stores in Maryland only, due to possible contamination of Salmonella and Listeria.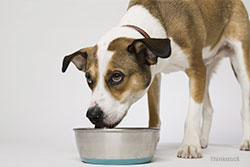 The product being recalled is K-9 Kraving Chicken Patties Dog Food that has a shipping date of between July 13 and July 17, 2015. 
If you are concerned you may have purchased the recalled K-9 Kraving Dog Food product, the FDA is advising you  to "discontinue use, monitor your pet's health, and contact your veterinarian.." 
Visit the FDA for further information.
Other products that have been recalled this year include:
The Natural Dog Company recall >>
The Carnivore Meat Company recall >>
Learn more about the dangers of Salmonella >>
Learn more about the dangers of Listeria >>
If you have any questions or concerns, you should always visit or call your veterinarian -- they are your best resource to ensure the health and well-being of your pets.

Tori has more than 2 years of experience in the pet health industry and is junior editor of IDEXX's Pet Health Network team.
Opinions expressed are those of the writer:
The opinions and views expressed in this post are those of the author's and do not necessarily represent the beliefs, policies or positions of all veterinarians, Pet Health Network, IDEXX Laboratories, Inc. or its affiliates and partner companies.