Second Company Recalls Dog Food Due to Listeria Concerns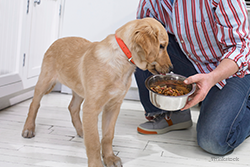 Listeria concerns continue to trend this week, as a result of multiple recalls. The pet food brand, 'Stella & Chewy's,' is recalling some of their products due to potential listeria contamination.
Chief Executive Officer, Jen Guzman issued a recall notice after the FDA detected Listeria monocytogenes in Chewy's Chicken Freeze-Dried Dinner Patties for Dogs, 15 oz. bags, Lot # 111-15.
In addition, Guzman wrote, "As a precautionary measure, we are voluntarily recalling all products from Lot #111-15." You can view the full list here.
This isn't the only recent recall over Listeria. Click here to read about the recent Carnivore Meat Company recall.
If you are concerned you may have purchased one of the recalled Stella & Chewy's products, you can look at the lot numbers and UPC codes on the bag. If it's on the recall visit Stella & Chewy's website for further instructions.
Click here to learn more about why Listeria is so dangerous.
If you have any questions or concerns, you should always visit or call your veterinarian -- they are your best resource to ensure the health and well-being of your pets.

Tori has more than 2 years of experience in the pet health industry and is junior editor of IDEXX's Pet Health Network team.
Opinions expressed are those of the writer:
The opinions and views expressed in this post are those of the author's and do not necessarily represent the beliefs, policies or positions of all veterinarians, Pet Health Network, IDEXX Laboratories, Inc. or its affiliates and partner companies.