A Christmas Lesson from an Old Dog and a Cold Rain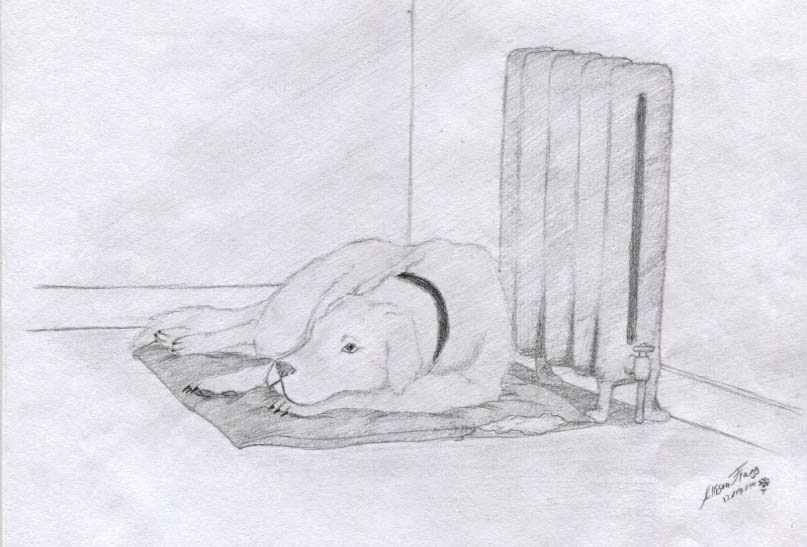 Story by Ernie Ward, Illustrations by Allison Flagg
[Editor's Note: This FICTIONAL story was created by Dr. Ernie Ward and inspired by a compilation of individual events from his amazing veterinary career. We hope you enjoy this heartwarming tale.]
"It's too darn cold to go out for a walk! Now lay down and quit your whining!"
Even Jerry was shocked by the ferocity in his voice as the echoes of his outburst bounced throughout the empty house. His old Labrador retriever, Gunner, lowered his tired head and slumped back to his spot near the heater. Gunner had started whining and pawing at the door about an hour ago, begging to go outside. Jerry could tell from the twinge in his knees that the icy Christmas rain and northwest wind was only getting worse. Pretty soon he'd have to get out of his old recliner and take Gunner out or risk waking up to a mess. He winced as he imagined Debra's voice calling to him, "Jer, poor old Gunner's been cooped up all day. Now you get yourself up and take that baby outside." What he wouldn't give to hear her nag him just one more time.
The end had come much too fast. There were so many things he hadn't said, needed to say, that now would never be spoken. Why had he insisted on being so stubborn? Why did he find it so hard to tell her he was sorry? Why hadn't he told her he loved her more often? As he lowered his head and began to cry, a familiar warm nose nudged his knee.
Jerry looked down and there was old Gunner giving him the most loving look he'd seen since Debra passed. Gunner licked at the old man's knee, exactly where the aching was. Jerry reached down and ran his hand through his best friend's fur. "Alright, boy. Let's get our oilers on and get you outside."
Gunner did a happy dance as Jerry pulled on his faithful pair of orange oilers from his final shrimping days. Jerry hooked on Gunner's leash and cracked the door to gauge the weather. Before he could open it further, Gunner burst through, leaving Jerry empty-handed, staring into the dusk at the unexpected energy from his thirteen-year old Lab. "He must've really needed to go," Jerry joked to himself.
As soon as he stepped into the frigid air, Jerry knew this would have to be a short walk.

Ernie has more than 20 years of experience in the veterinary industry and is a well-known veterinarian, media personality and author. He is also a founding member of IDEXX's Pet Health Network team.
Opinions expressed are those of the writer:
The opinions and views expressed in this post are those of the author's and do not necessarily represent the beliefs, policies or positions of all veterinarians, Pet Health Network, IDEXX Laboratories, Inc. or its affiliates and partner companies.