Losing My Best Friend: The Story of Why I Became a Veterinarian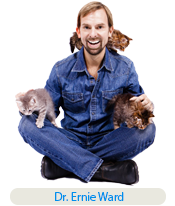 I didn't as much choose to be a veterinarian as I was called into the profession. I was compelled to enter this great profession at an early age after suffering a traumatic incident. I was nine years old when I watched my dog die in my arms, plain and simple. It was in that instant that I dedicated my life and talents to helping animals. I want you to know that as I offer my unique perspective on the care of all creatures great and small. It's also not that plain or simple.
For me, entering the veterinary profession wasn't so much a carefully planned career choice as a spiritual necessity. Both my mother and father had grown up dirt poor on small rural family farms in southern Alabama and Georgia. Both had it hard – Depression Era-hard except the tough times lasted their entire lives. Both committed to graduating from high school and going to college, a feat that had yet to be accomplished by anyone in either family. At the time, you might as well have been talking about landing on the moon. College was a long, long way from Red Level, Alabama or Jakin, Georgia. My mother worked hard throughout high school and earned a college scholarship. My dad entered the Army, took a detour to Korea and then pursued his degree. They met at a (then) tiny south-Alabama college (now Troy University), made three babies and raised a family in the middle of the woods in rural southwest Georgia. I grew up with my best friends being a menagerie of
 mutts, yard cats, chickens, rabbits, ducks and my budding imagination. Television was a no-no with chores and schoolwork the priority. Video games were still a decade away. My days were filled roaming for miles with my dogs along back woods trails, abandoned Civil War railways, and ancient logging routes. I didn't have a map, GPS, or cell phone and the only limit to my adventures was running out of sunlight. When I was in fourth grade I made a promise to my parents that I'd become a doctor if they bought me the four-volume Encyclopedia of Medical Facts. No joke. I upheld that promise years later and became a type of doctor. But first I'd have to learn how to take care of my own animals.  
The very first dogs I called my own were

Ernie has more than 20 years of experience in the veterinary industry and is a well-known veterinarian, media personality and author. He is also a founding member of IDEXX's Pet Health Network team.
Opinions expressed are those of the writer:
The opinions and views expressed in this post are those of the author's and do not necessarily represent the beliefs, policies or positions of all veterinarians, Pet Health Network, IDEXX Laboratories, Inc. or its affiliates and partner companies.