Not Even a Fire Could Stop this Determined Cat Guardian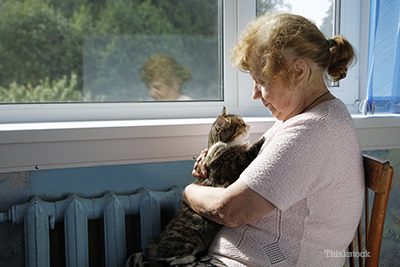 Dr. Phil Zeltzman is a traveling, board-certified surgeon in Allentown, PA. His website is www.DrPhilZeltzman.com. He is the co-author of "Walk a Hound, Lose a Pound" (www.WalkaHound.com).
Kelly Serfas, a Certified Veterinary Technician in Bethlehem, PA, contributed to this article.
A diagnosis of liver disease
Ms. Smith doesn't give up easily. Her family veterinarian had diagnosed liver disease in her 12-year-old cat Toby and recommended an ultrasound to see what was causing the problem. She immediately took Toby to a referral hospital thirty minutes away. When she arrived, she was told that the ultrasound specialist could not make it to the hospital today.
As I said, Ms. Smith doesn't give up easily; she asked for another recommendation and was sent to a second hospital thirty minutes away from the first. Unfortunately, when she arrived, she was told that the ultrasound specialist had to leave for a family emergency. Still determined, she asked for a third recommendation.
That's how Toby first arrived at one of my referral hospitals (I am a traveling surgeon). Finally, a specialist performed the ultrasound Ms. Smith had been seeking. Changes in the liver were confirmed, and the specialist recommended taking samples surgically.
I performed the surgery, and took the biopsies. They were packaged up and sent to the lab through a FedEx carrier. Toby recovered smoothly and went home the next day.
Transporting biopsy samples
Samples, like those I took from Toby, often need to be sent out via courier to be analyzed.
A few days later, as we were finishing a surgery at another one of my referral clinics, the anesthesia nurse told me an incredible story.  A few days prior, her veterinarian had taken biopsies from three patients. The biopsies were packaged up and sent to the laboratory through a FedEx carrier.
The next morning, the clinic received a courtesy call from FedEx. The representative explained that the truck carrying the sample got into an accident and burned to the ground!
Hundreds of packages, including the three biopsy samples, were incinerated. The nurse and I agreed that it was an unbelievable story. I certainly had never heard anything like it in my entire career. This was a case of Murphy's law at its cruelest. The only good news was that the truck driver was safe.
Delayed biopsy results
Remember our kitty, Toby, and his owner, Ms. Smith (who never gives up)?
Opinions expressed are those of the writer:
The opinions and views expressed in this post are those of the author's and do not necessarily represent the beliefs, policies or positions of all veterinarians, Pet Health Network, IDEXX Laboratories, Inc. or its affiliates and partner companies.