Saving Shrek: Abused Dog Given New Life
Dr. Ernie Ward tells the miraculous story of Shrek, a brave little escapee from a puppy mill that just happened to visit the right farm at the right time. Visit Dr. Ernie at www.DrErnieWard.com or on Facebook.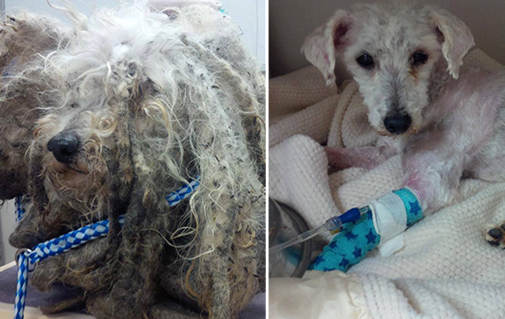 All the ugly in world can't hide the beauty within.
It had rained all night. A cold, hard, mid-October Canadian rain. The kind of rain that seeps into your bones and quietly coerces you into staying in your warm bed just a little longer.
Regardless of the weather, life on veterinarian Dr. Brenda Gough's farm goes on.  So on a recent early Wednesday morning her husband began his usual pre-dawn morning chores. As he made his rounds that icy morning, he spied what he thought was a "dead animal carcass or a pelt some wolf had dragged up." He gave it little consideration until the ball of fur moved. He cautiously approached the thing when it tumbled toward him. Not knowing what to do, he called his wife. "What kind of animal is it?" Dr. Gough asked. "Don't know. Something furry -- I think."   Dr. Gough instructed her husband to bring the animal back to the house. "Don't know how. I can't tell front from back." was the response. So, as in millions of homes around the world, it was Mom who had to do the dirty work.
When Dr. Gough arrived, she couldn't believe her eyes. "Most veterinarians have treated a severely matted animal during their career. This was beyond matted. It looked alien; an unknown species. I hope I never see anything like it again."
Dr. Gough called out to the animal. The pile of mud and fur rolled toward the sound of her voice. It was at that moment she realized the matted thing was a dog. Her heart began to sink. "It could barely walk. I had no idea how it made it to my farm miles from the nearest house. All I knew was it needed help."
She gently picked up the dog and sped to her veterinary clinic, Park Road Veterinary Clinic in Brantford, Ontario. "The smell was horrific. Everyone ran to the treatment area to find out what was going on." No one could understand how this could happen to a dog. Without further discussion, the veterinary team went to work.
When they were done, they had removed over three-and-a-half pounds of matted fur. Underneath the cocoon

Ernie has more than 20 years of experience in the veterinary industry and is a well-known veterinarian, media personality and author. He is also a founding member of IDEXX's Pet Health Network team.
Opinions expressed are those of the writer:
The opinions and views expressed in this post are those of the author's and do not necessarily represent the beliefs, policies or positions of all veterinarians, Pet Health Network, IDEXX Laboratories, Inc. or its affiliates and partner companies.