Service Dog Stands Between Blind Guardian and Bus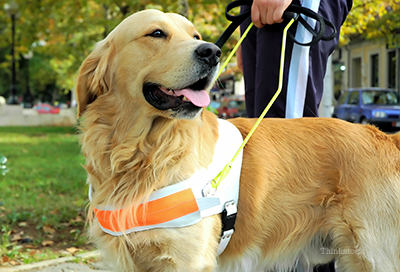 An eight-year-old Golden Retriever named Figo (pronounced "FEE-go") is my new hero. Figo is a devoted service dog and he recently demonstrated his devotion by putting his life on the line for his human companion, Audrey Stone, who is legally blind.
On June 8th Audrey and Figo went out for their daily walk in Brewster, New York. While crossing a street, they were approached by a school bus. The bus driver failed to see the twosome, but Figo clearly saw the bus moving toward them. According to CBS New York, witnesses at the scene describe Figo leaping to action by moving from his companion's right side to her left, literally putting himself between Audrey and the bus. In spite of his efforts, Audrey and Figo were both seriously injured.
According to CBS and Peter Kramer of lohud.com, Audrey Stone is in stable condition at Danbury Hospital, recovering from a fractured elbow, ankle, three broken ribs and a cut to her head. Fifteen miles away from where Audrey is recovering, Figo is also in stable condition at Middlebranch Veterinary, located in Carmel New York. Figo's right front leg went under the bus, resulting in a mild break in the bone as well as severe trauma to the skin and deeper tissues.

Nancy has more than 30 years of experience in the veterinary industry and is a board-certified veterinary specialist in internal medicine as well as a valued member of IDEXX's Pet Health Network team since 2014.
Opinions expressed are those of the writer:
The opinions and views expressed in this post are those of the author's and do not necessarily represent the beliefs, policies or positions of all veterinarians, Pet Health Network, IDEXX Laboratories, Inc. or its affiliates and partner companies.