Hurray for happy endings! According to Adam Carlson of people.com, after 42 days of being lost in Yellowstone National Forest, "Jade, a 17-month-old," blue-eyed, Australian Shepherd, was reunited with her family.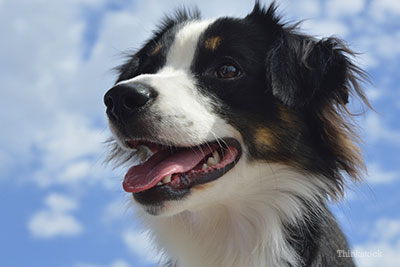 How was Jade lost?
On July 23, Jade and her owner, David Sowers, were involved in a head-on collision in Yellowstone, says Whitney Bermes of Bozeman Daily Chronicle. Sower's girlfriend, Laura Gillice, was also in the car.

Once freed from the car, Sowers was airlifted to a hospital in Bozeman with a shattered knee and multiple broken bones, reports Carlson. Unfortunately, Jade bolted from the scene when park rangers attempted to free her from her crushed cage.

The search for Jade
In her article, Bermes details the exhaustive hunt for Jade. During her 42-day absence there were several Jade sightings, as many as three or four in one day. At one point, there was a lapse of 16 days without a single sighting. Sowers and Gillice had pretty much given up hope. They traveled from Denver, back to Yellowstone four times with hopes of finding Jade. In the meantime, Kat Brekken, a senior reservations agent for Xanterra Parks and Resorts, busied herself with rescue efforts. She recalled thinking, "I have to find this dog1."

Brekken set up a Facebook page for the search and put up posters. She used a recording of Sowers calling for Jade and played it in the areas where Jade was sighted. She even used some of Sowers dirty laundry as bait hoping to lure Jade into a trap1.

Finding Jade
On their last trip to Yellowstone, Sowers, Gillice and their other dog Laila stayed in the park's Canyon Village area where Sowers' wrecked vehicle sat for several weeks before being towed. This was also the area where Jade had been most recently sighted1.

As Gillice and Laila were sitting at the edge of a meadow, out of the corner of her eye Gillice saw a black head pop up. With the help of binoculars she identified none other than Jade. According to Carlson, Gillice said, "She came bounding at me, kissing me and everything."

Needless to say, Sowers was overjoyed at finally being reunited with his beloved dog. Amazingly, Jade appeared uninjured, other than a small cut on her lip. However, she did lose quite a bit of weight during her ordeal. "She's skin and bones, but otherwise she seems perfectly fine," Sowers said1.

Jade became quite a celebrity amongst locals. As the family sat outside on the grass only a few hours after Jade's reunion with Sowers, dozens of people flocked to pet the "miracle dog." They all expressed astonishment at her survival. "What a fantastic boost for us," one Yellowstone employee said. "That warms my heart." Kat Brekken, had tears in her eyes as she showered Jade with hugs, kisses, and pets1.

It's unclear just how Jade survived as long as she did. She may have fed on road kill or animal scat. She was certainly lucky to have avoided falling victim to one of many large predators that reside in Yellowstone. Only Jade knows the truth behind her survival.

During his reunion with Jade, Sowers sported a shirt saying, "Only the strong survive Yellowstone." He reassured his girl,  saying, "I'm not going anywhere, I promise. You and I are going to stick together1."
If you have any questions or concerns, you should always visit or call your veterinarian -- they are your best resource to ensure the health and well-being of your pets.

Resources: