Dr. Phil Zeltzman is a traveling, board-certified surgeon in Allentown, PA. His website is www.DrPhilZeltzman.com. He is the co-author of "Walk a Hound, Lose a Pound" (www.WalkaHound.com).
Kelly Serfas, a Certified Veterinary Technician in Bethlehem, PA, contributed to this article.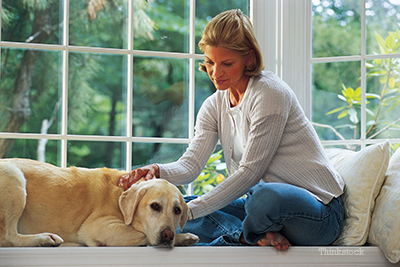 Bailey, a 6-year-old Labrador mix, began limping on his left back leg after running to catch a bunny. The limping did not go away after a week, so Bailey's owners scheduled an appointment with their family veterinarian. The way it happened and the physical exam both indicated a torn ACL (anterior cruciate ligament). X-rays confirmed an ACL tear, and Bailey's veterinarian recommended a consultation with a board-certified surgeon (yours truly) to repair the ACL. When I reviewed the X-rays, it appeared that the ACL was not the issue. My heart sank. The issue was something much more serious.

Canine bone cancer
Bailey most likely had osteosarcoma—the most common type of bone cancer. I called his guardian to discuss the new diagnosis. He was clearly devastated. We went over what osteosarcoma is and what we can do about it. He elected amputation, and would probably not follow up with chemotherapy. That would buy time for Bailey, hopefully 3 to 6 months at least, but Bailey would be comfortable and functional during that time.

I then called Bailey's family veterinarian to instruct the clinic to have the client come back the next day for chest X-rays. Before surgery, we had to make sure the tumor had not spread to the lungs.

The next morning however, the clinic called to inform me that the owner came in and decided to euthanize Bailey right then and there. Surgery was cancelled.

It was my turn to be devastated. I didn't understand why the decision had been changed so quickly and I wished I could have had an opportunity to further discuss things with Bailey's guardian. It sounded like a purely emotional reaction. Bailey was otherwise in good health, the cancer had not yet spread and with the leg amputation he could have enjoyed his extra life.

Dealing with a bad diagnosis
It's hard not to get emotional when your pet has been given a poor diagnosis. It might be a good idea to slow down, take a breath, and think rationally about the best way to deal with your circumstances. Try to think of the situation from your pet's standpoint too; which option is the most humane? Here is a non-exhaustive list of things you can do when the diagnosis is really bad.
Talk to your family veterinarian
Meet with family members or close friends
Don't believe everything you read online. Only visit reputable websites, starting with Pet Health Network
Check for online support groups (try Yahoo) where you can find pet owners in your situation
Network to find pet owners who went through the same ordeal
Get a second opinion from another veterinarian
Meet with a specialist (in Bailey's case, a surgeon or an oncologist)
Pets are creatures of habit. Keep their routine the same
Join a pet loss support group. It may seem premature, but you'll get plenty of understanding and support
Consider hospice care
Explore options for euthanasia with your veterinarian: at home vs. at the clinic.
I completely understand and respect Bailey's guardian's decision. At the same time, I feel like he was robbed of several good months with his dog.
Click here to learn about staging and grading the tumors.

If you are ever in a similar situation with your pet, here are some questions to ask your family veterinarian or your surgeon:
What are all of the options?
What can we do to keep my pet comfortable?
Can you put me in touch with clients that have gone through the same situation?
If you have any questions or concerns, you should always visit or call your veterinarian -- they are your best resource to ensure the health and well-being of your pets.
Reviewed on:
Monday, September 22, 2014