How to Have a Healthy and Happy Cat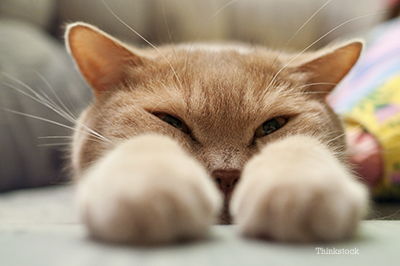 Dr. Phil Zeltzman is a mobile, board-certified surgeon in Allentown, PA. Find him online at www.DrPhilZeltzman.com. He is the co-author of "Walk a Hound, Lose a Pound" (www.WalkaHound.com).
Chris Longenecker, a Certified Veterinary Technician in Reading, PA, contributed to this article.
While the cat population slowly increases, veterinary care provided to cats progressively decreases.Typically, cats fail to receive the same veterinary attention as dogs. Two years ago, feline visits decreased 5% from 2006. This year, it is estimated that fewer than half of the estimated 74 million pet cats in the United States will not receive regular veterinary care. Fewer than half!
Proper kitty care doesn't have to cost a fortune. Here are ten ways to keep your cat happy and healthy.
1. Keep cats indoors
Unfortunately, family vets in general, and surgeons in particular, see all kinds of wounds and fractures in cats who are left outside unattended.  We have treated cats who were hit by a car, shot at with an arrow, shot at with a BB gun, shot at with a real gun, and bitten by animals (dogs, possums, raccoons, other cats). In some areas, cats vanish after encounters with coyotes or other predators.
If you feel that keeping cats indoors in inhumane, then walk them on a leash around the yard.  This will prevent them from getting out of the yard if left unsupervised. Sadly, we live in a world where the safest place for your cat is on the couch. 
2. Chubbiness
Just because cats should live on the couch, doesn't mean that they shouldn't exercise. Sedentary cats are prone to obesity. One way to avoid this is provide toys for play. Initiate play with your cat. This is good not only to help your pet lose extra pounds, but to tap into your cat's natural hunting instincts. Different cats like different toys, so explore various options. You can also offer a special "food toy" which releases food when it's moved in a particular way. Another idea is to hide pieces of kibble around a room to increase your cat's hunting instinct. 
3. Litter
Cats are obsessed with cleanliness. A clean litter box is critical to avoid inappropriate elimination in the house. A litter box should be cleaned once a day. If you have more than one cat, you should offer multiple litter boxes – all cleaned once a day.