Our Top 10 Summer Safety Tips for Dogs
Help your pooch make the most out of summer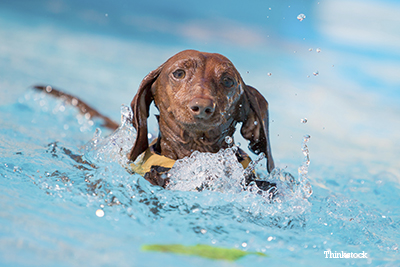 Our pets love summer just as much as we do! For many, it's the best time of year to be out, about, and enjoying all that the season has to offer.
While there is certainly nothing wrong with taking your pet out for picnics, hikes, swimming, or running, keep in mind that warm weather can be dangerous. It's hard for pets to keep cool when the sun is beating down, and animals don't sweat like people do. Dogs do sweat, but not very much, and it does little to cool them off. As you probably know, dogs more commonly cool themselves down through panting. When there is only hot air for a dog to breathe, it's a lot harder for that dog to keep cool. Read on to learn some important summer safety tips for dogs.:
1. Never, ever, EVER leave your dog in a hot car
Okay, you've probably heard this one before, but it's so important that we still decided to list it first. It can take minutes – yes, MINUTES – for a pet to develop heat stroke and suffocate in a car. Most people don't realize how hot it gets in parked cars. On a 78 degree day, for instance, temperatures in a car can reach 90 degrees in the shade and top 160 degrees if parked directly in the sun! Your best bet is to leave your dog home on warm days. If you're driving around with your dog in the car, bring water and a water dish and take your dog with you when you leave the car.