Oldest Cat in the World Enjoys 24th Birthday!

This story was selected for our series: "Top Stories of 2014."
At age 24, Poppy has become the world's oldest living cat, reports Discovery.com.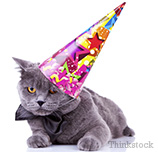 On May 21st, "Poppy, hailing from Bournemouth, England, was crowned the world's oldest living cat, taking the Guinness World Record."  Until last year, the title of "oldest living cat," was contested by a 23 year old feline from Kansas, named Pinky. Poppy still has a long way to go to catch the all time oldest cat record of 38. Discovery says that, that record is currently held by a feline who was named "Crème Puff, from Texas — she was born Aug.3, 1967 and passed away on Aug. 6, 2005 at age 38." 
Poppy is clearly an extraordinary cat and although she has lost her sight and her hearing she's still ruler of the house. In people years she would be 112 now and Poppy celebrated her birthday in style. Click here to view the cat party photos> 
Do you know how old your pet would be in people years? Check out the charts below.
How Old is Your Cat in People Years?
How Old is Your Dog in People Years?
More of 2014's top stories:
If you have any questions or concerns, you should always visit or call your veterinarian -- they are your best resource to ensure the health and well-being of your pets.


Jason has over 6 years of experience in the pet health industry and is managing editor of IDEXX's Pet Health Network team.
Opinions expressed are those of the writer:
The opinions and views expressed in this post are those of the author's and do not necessarily represent the beliefs, policies or positions of all veterinarians, Pet Health Network, IDEXX Laboratories, Inc. or its affiliates and partner companies.