5 Ways to Help Your Local Shelter
Did you know that the Humane Society of the United States reports that 6 to 8 million cats and dogs enter shelters every year? Thanks to the hard work of shelters, rescue groups and animal lovers, 3 to 4 million cats and dogs are adopted. Despite these efforts though, sadly, 2.7 million adoptable cats and dogs are still euthanized every year. So what can you do to help shelters and rescue groups save more animals?
1. Spay and neuter
The single most important thing people can do to reduce the number of shelter pets is to spay and neuter. Unfortunately, pet parents often underestimate their pet's drive to breed. It only takes a brief lapse for our resourceful pets to find a way to do what biology has hard-wired them to do! Even indoor-only cats often find a way to breed if given a chance. The only way to insure that your cat is not contributing to pet overpopulation is by spaying or neutering.
Click here to learn more about spay/neuter benefits.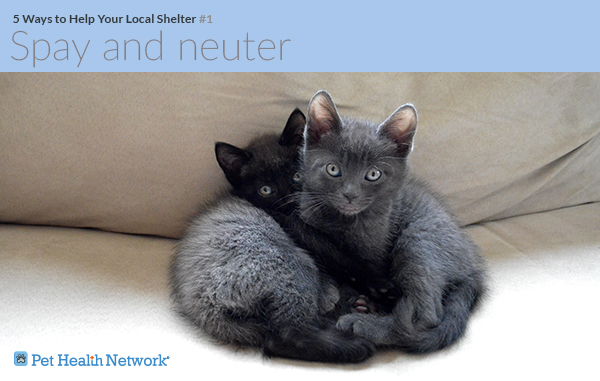 Ruth has more than 15 years of experience in the veterinary industry as a companion animal veterinarian in private practice. Along with being a writer and media personality, she is also a founding member of IDEXX's Pet Health Network team.
Opinions expressed are those of the writer:
The opinions and views expressed in this post are those of the author's and do not necessarily represent the beliefs, policies or positions of all veterinarians, Pet Health Network, IDEXX Laboratories, Inc. or its affiliates and partner companies.