Dr. Justine Lee: What I'm Thankful For
See more "What I'm thankful for..."
For more from Dr. Justine Lee, find her at www.drjustinelee.com or on Facebook!
As Thanksgiving approaches, I like to take the time to reflect back on all that I'm thankful for. (In reality, we should be thankful more than one day a year!).
I'll start by writing about the dedication at the beginning of my dog book It's a Dog's Life… But It's Your Carpet.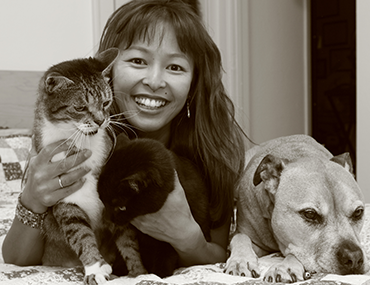 This humorous, Q&A book on dog ownership took a lot of time to come to fruition, and my dedication to all those that I was thankful for is listed below:
To my parents, who taught me that perseverance, hard work, and faith pay off…
To the thousands of dogs and cats that I've treated, and the good (and occasional
bad) owners that came with them - for making me who I am today, and teaching
me and reminding me why I love what I do...
To JP, the best dog ever, for teaching me that success isn't measured by society,
but by the joy of a tail wag.
To all my friends, family, relatives, and acquaintances who've always hounded
me for free vet advice… this one's for you.
In an excerpt of my acknowledgements at the end of the book:
To my family, who encouraged me along the way, but more importantly, put up with me – thank you for all your advice, support, and tolerance.
To Jane (BFF), for teaching me and showing me, by example, just how essential compassion, communication, and the human-animal bond are. I want to be reincarnated as your next dog.
To all the wonderful friends and colleagues along the way who thought I was insane to take on yet another project…you know who you are (yes, I mean you). From helping to come up with humorous vet questions, to working in a coffee shop, to reading the first few manuscripts ("can you proof these 100 pages by say, Wednesday?"), to pet sitting JP, to helping me escape and go play – thank you.
To the handful of extra-special patients that I've had (you may see your name interspersed through the book!) - for teaching me that life is short, but a dog's life is even shorter, so live and love hard.
But there's more to it than that... 

Justine has more than 18 years of experience in the veterinary industry and is a board-certified emergency critical care veterinary specialist and toxicologist as well as the CEO and founder of Vetgirl. She is also a founding member of IDEXX's Pet Health Network team.
Opinions expressed are those of the writer:
The opinions and views expressed in this post are those of the author's and do not necessarily represent the beliefs, policies or positions of all veterinarians, Pet Health Network, IDEXX Laboratories, Inc. or its affiliates and partner companies.