Cat Wanders 150 Miles to Former Home
During my recent trip to New Zealand I encountered a story about a cat named Peanut, who disappeared from his home in Hastings and found his way all the way to his former home in Gisborne, a distance of nearly 150 miles. But for the fact that Peanut had been fitted with a microchip his remarkable journey might have come to a completely different end.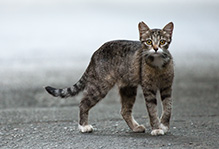 According to the New Zealand Harold, shortly after Peanut's family moved to Hastings from Gisborne, Peanut wandered off. We will never know how Peanut found his way safely, but he must have had a grand adventure and I can only imagine he would have a great [tail] to share if he could talk.
Fortunately, Peanut was rescued by the Gisborne SPCA and promptly checked for a microchip which is standard in most shelters. With the help of his microchip and a lot of detective work, Peanut was reunited with his family.
Peanut was lucky in so many ways. There's no telling the potentially fatal accidents he avoided. Perhaps his greatest fortune is the fact that his guardian had thought to have him microchipped. It probably saved his life. Click here to learn about microchipping your cat.
[Editor's Note: Also remember to always keep your cat indoors, so he can't wonder off.]
If you have any questions or concerns, you should always visit or call your veterinarian -- they are your best resource to ensure the health and well-being of your pets. 

Mike has more than 35 years of experience in companion animal veterinary practice and is a valued member of IDEXX's Pet Health Network team since 2013.
Opinions expressed are those of the writer:
The opinions and views expressed in this post are those of the author's and do not necessarily represent the beliefs, policies or positions of all veterinarians, Pet Health Network, IDEXX Laboratories, Inc. or its affiliates and partner companies.