Dr. Ruth's Holiday Gift Ideas
Holiday shopping for your pets isn't easy. After all, they can't tell you or Santa what they want in their stocking. If you're still trying to find the perfect gift to thank your loyal, four-legged best friend, think about some of these gift suggestions. They are sure to bring a wag to any dog's tail.
1. The gift of good health
Give your pets the gift of good health. Make sure your pets receive regular checkups. All pets should be seen at least once a year; pets older than seven should be seen every 6 months. These examinations allow your veterinarian to ensure your pet is protected against preventable diseases and helps her stay ahead of potential health problems. In the long run, regular checkups not only save you money, but also, ensure that your pet will live a long and healthy life. And what's more important than the gift of good health?
[Learn why even healthy looking pets should see the veterinarian regularly.]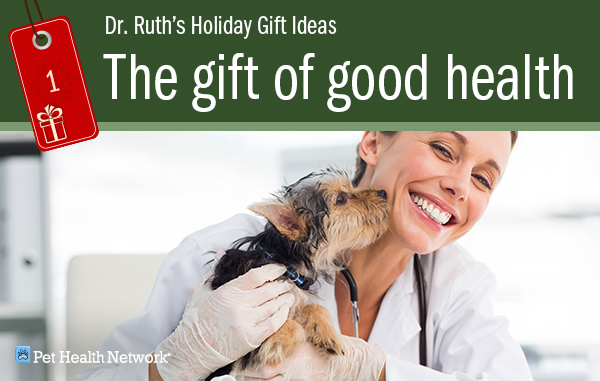 Ruth has more than 15 years of experience in the veterinary industry as a companion animal veterinarian in private practice. Along with being a writer and media personality, she is also a founding member of IDEXX's Pet Health Network team.
Opinions expressed are those of the writer:
The opinions and views expressed in this post are those of the author's and do not necessarily represent the beliefs, policies or positions of all veterinarians, Pet Health Network, IDEXX Laboratories, Inc. or its affiliates and partner companies.