New Study Shows Therapy Dogs Can Support Cancer Treatment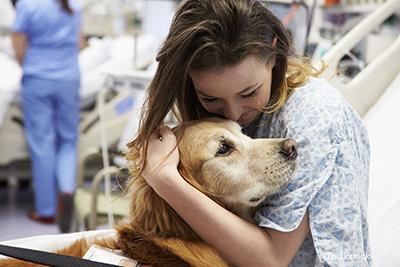 Animal-assisted visits in cancer treatment centers are gaining popularity. Patients undergoing chemotherapy or radiation therapy can opt for some doggie face time during their treatments. But does this truly influence the patient's well-being? Until recently, scientific documentation of the benefits of pet-facilitated therapy for cancer patients has been lacking. A study published in the January Journal of Community and Supportive Oncology provides just such evidence.
How was the therapy dog study performed?
Acoording to OncologyPractice.com, the study titled, Beneficial effects of animal-assisted visits on quality of life during multimodal radiation-chemotherapy regimens evaluated 37 people undergoing a combination of chemotherapy and radiation therapy for treatment of head and neck cancer. Throughout their treatments, these patients received daily 15-20 minute animal-assisted visits. A questionnaire called the FACT-G (Functional Assessment of Cancer Therapy-General) was administered three times during the seven-week course of treatment. The responses of the patients demonstrated a significant increase in their sense of social and emotional well-being despite declines in their physical and functional well-being.
Have there been similar studies?
Principal researcher, Dr. Steward Fleishman called this study, "the first such definitive study in cancer." He goes on to say,
"Having an animal-assisted visit significantly improved quality of life and humanized a high-tech treatment. Patients said they would have stopped their treatments before completion except for the presence of the certified Good Dog Foundation therapy dog and volunteer handler1."
This fabulous study was funded by Zoetis Animal Health and The Good Dog Foundation1.

Nancy has more than 30 years of experience in the veterinary industry and is a board-certified veterinary specialist in internal medicine as well as a valued member of IDEXX's Pet Health Network team since 2014.
Opinions expressed are those of the writer:
The opinions and views expressed in this post are those of the author's and do not necessarily represent the beliefs, policies or positions of all veterinarians, Pet Health Network, IDEXX Laboratories, Inc. or its affiliates and partner companies.