5 Tips to Keep Your Cats Safe This Halloween
Halloween isn't just a spooky time for humans; it can be frightening and even deadly for cats. As you prepare for Halloween, keep these five tips in mind, so that both you and your feline friends have a safe and happy Halloween.
If your cats aren't already indoor-only cats, be sure to keep them inside on Halloween night, so they are not terrified by all of the scary Halloween trick-or-treaters. With lots of scary noises and children in costumes shouting "Trick or Treat," even indoor cats can become frightened. Many pets are lost each Halloween when they get scared and dart out of open doors, so keep your cats safe and away from the commotion by keeping them in a back room.
Another reason to keep your cats indoors during Halloween is to protect them from people who wish to do them harm. Sadly, there has been a disturbing increase in the disappearance of many animals, especially black cats, during Halloween. Besides keeping your cats indoors, make sure your cats each have a collar, ID tag and microchip just in case they get out and become lost.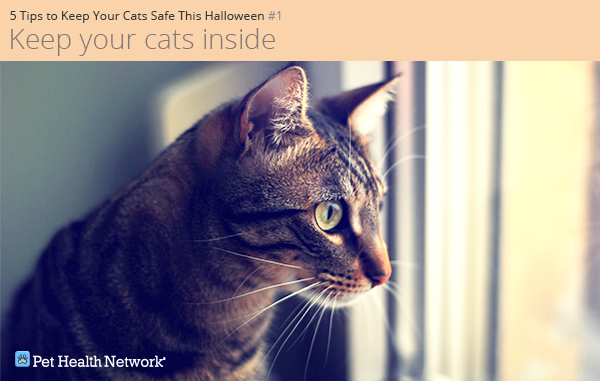 Ruth has more than 15 years of experience in the veterinary industry as a companion animal veterinarian in private practice. Along with being a writer and media personality, she is also a founding member of IDEXX's Pet Health Network team.