3 Ways Playing in Puddles Could be Deadly to Your Dog
There's a lot to be said for a vigorous walk with your dog after a heavy rainstorm. The landscape appears refreshed, the air smells great, and you and your dog get to unleash some cabin fever!
As fun as it is to watch your dog splash and play in the puddles you encounter on your walk, some caution is advised. Depending on the surrounding environment, those pools of standing water can harbor some health hazards.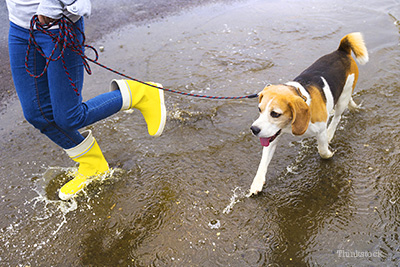 Leptospirosis from puddles
Leptospirosis organisms are bacteria that thrive in wet climates. Wild animals, particularly deer and rodents, and some domesticated animals (cows, sheep and pigs) can be leptospirosis carriers. Although infected, these mammals maintain good health while shedding leptospirosis organisms in their urine.
Dogs can contract leptospirosis by drinking from water sources contaminated with urine from an infected animal. Puddles that have formed from rain runoff certainly qualify as such a source. A 2002 study on the prevalence of canine leptospirosis in the United States and Canada revealed that disease prevalence correlates with the amount of rainfall. The more rain, the more dogs diagnosed with leptospirosis1.
Not all dogs become sick when exposed to Leptospirosism, but for those that do, the results can be devastating. Leptospirosis most commonly causes kidney failure. Associated symptoms include lethargy, vomiting, diarrhea, and loss of appetite. The liver and lungs are also targets for this disease. The diagnosis of leptospirosis is made via blood and urine testing. Successful treatment consists of antibiotics and supportive therapy such as supplemental fluids.
The leptospirosis vaccination does a good job of protecting against this disease. Talk with your veterinarian about whether or not this vaccine makes sense given where you live and the nature of your dog's extracurricular activities.

Nancy has more than 30 years of experience in the veterinary industry and is a board-certified veterinary specialist in internal medicine as well as a valued member of IDEXX's Pet Health Network team since 2014.