Cold Weather Tips for Dogs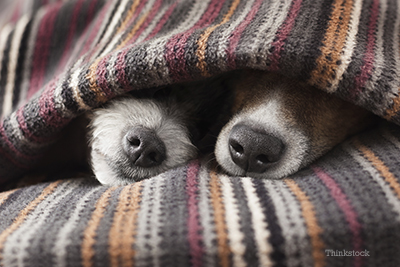 Despite the popular misconception, fur alone is not enough to protect dogs from the elements. The fact is that, much like people, dogs have varying degrees of tolerance when it comes to temperature extremes. Even the hardiest breeds are susceptible to hypothermia and frostbite. Dr. Jason Nicholas from thepreventivevet.com warns, "With hypothermia we worry about depressed temperatures affecting the normal function of the central nervous system (brain), as well as the pet's ability to effectively circulate blood and breath. It's this impaired ability to circulate blood (and thus deliver heat to the periphery of the body), as well as other factors, that can contribute to the development of frostbite. Pets can die from hypothermia and those that suffer from frostbite will deal with pain and may lose affected body parts." Luckily, hypothermia and frostbite can be easy to avoid by taking a few precautions:
Talk to your vet about cold weather protection
Some medical conditions will worsen when it gets colder out, "one of the main ones would be arthritis," according to Dr. Jason Nicholas. Arthritis might worsen in the cold months "because of the direct effect of the cold [which can cause] increased stiffness, and because the cold frequently brings icy/slippery streets and sidewalks." Before it gets to be wintertime your dog should have a checkup. Having your dog checked by a veterinarian can help ensure that problems don't worsen when the temperature drops. This visit is also your best opportunity to ask your veterinarian about winter care.
[My Pet's Perfectly Healthy! Why Should I See My Veterinarian?]

Jason has over 6 years of experience in the pet health industry and is managing editor of IDEXX's Pet Health Network team.