5 Reasons to Test Your Cat for Diabetes
One of my least favorite diagnoses to make in cats is Type II diabetes. I have a deep dislike for feline diabetes because of two indisputable facts:
1) It's largely preventable and unnecessary
2) It's a real challenge to treat for many owners
Fortunately, Type II diabetes is also one of those diseases that benefits from early detection. I'd like to share my top five reasons you need to test your cat early and often for Type II diabetes:
[Editors note: Learn more about the differences in diabetes testing.]
One of the most  interesting aspects of feline Type II diabetes is its potential reversibility or remission, especially when diagnosed in the earliest stages. Over the past twenty-three years, I've seen scores of kitties weaned off insulin when diagnosis and treatment was initiated quickly. Research has shown up to 60% of cats will experience diabetic remission within the first few months of treatment, reports Alice Huang (VMD, DACVIM) from Perdue University. Combining strict blood sugar regulation with precise insulin therapy, changes in diet and weight loss are a recipe for reversing diabetes in many cats. Some cats will remain diabetes-free for many months to years. My advice is to have your cat tested at least yearly for signs of diabetes, twice yearly if you have a flabby feline.
[Check out how an early diabetes diagnosis saved Dr. Paul's cat.]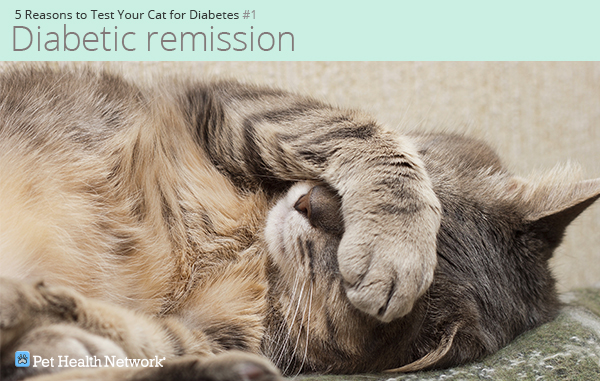 Ernie has more than 20 years of experience in the veterinary industry and is a well-known veterinarian, media personality and author. He is also a founding member of IDEXX's Pet Health Network team.