September: Disaster Preparedness Month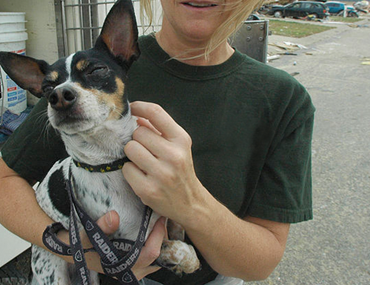 Dr. Justine Lee discusses Disaster Preparedness month and how you can prepare to care for your pet in the event of catastrophe. For more from Dr. Lee, find her on Facebook!
Did you know the month of September is National Preparedness Month? As an emergency critical care specialist, I like to use this time to make sure that pet owners are also well prepared for disasters or emergencies. The general rule is to be prepared to go three days without food sources, water, electricity or access to stores or local services.
We'll focus this blog just for preparations for your pet. For more information on what you need to supply for yourself, check out some great resources from FEMA or the American Red Cross on human survival kits.
 
During Hurricane Katrina, many pets were sadly abandoned. If you end up evacuating your home, don't leave your pets behind, as the likelihood they'll survive or reconnect with you afterwards is low (especially without a collar and microchip)!
Keep in mind that if you are going to a public shelter during a disaster, often animals are not allowed inside. When in doubt, survey pet-friendly hotels in advance so you know you have a place to go to with your pets. Also, make sure you have shelter alternatives in advance – friends, loved ones, colleagues, etc. who are willing to host you and your pet(s) in case of an evaluation or emergency.
[Check out 5 Things You Probably Don't Know About Disaster Preparedness for Pets.]

Justine has more than 18 years of experience in the veterinary industry and is a board-certified emergency critical care veterinary specialist and toxicologist as well as the CEO and founder of Vetgirl. She is also a founding member of IDEXX's Pet Health Network team.
Opinions expressed are those of the writer:
The opinions and views expressed in this post are those of the author's and do not necessarily represent the beliefs, policies or positions of all veterinarians, Pet Health Network, IDEXX Laboratories, Inc. or its affiliates and partner companies.